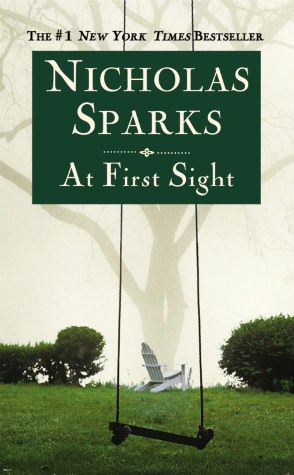 One of the most beautiful, but sad, stories I have ever read. After finishing another one of Nicholas Sparks' novels, I am reminded of how much I love them.
'At First Sight' is a story about falling in love, relationships, marriage, parenthood, trust and believing. From the very start I was captured by the story of the couple presented in the book. Although as with most of Nicholas Sparks' books the best part is the ending, the part of the book that leaves you with a lasting impression. Heart-wrenchingly sad, but simply beautiful too.
The story is about a man, Jeremy, who meets a woman, Lexie, on his travels as a writer. After spending just one week with her he falls in love and goes back to find her six weeks later to propose to her. After she accepts, he gives up his life in New York City and moves down south to be with her. Learning that Lexie is pregnant, the wedding is promptly planned for and the couple buy a new house together. From there they begin to have their ups and downs as a couple, learning that if their relationship is to last they must have trust in each other. There is also some unexpected news and a shocking tragedy that follows. But all ends well, as a new life has begun and the last image you're left with shows the unconditional love felt in this story.
I wanted to share a small section of the book that I loved reading, as I felt it was so true but something most of us don't think about. It explains the relationship between a man and woman, a couple and what each of them expects of the other, the sacrifices we make for the ones we love.
Lexie's grandmother giving her some 'words of wisdom' when the couple was going through a rough time before the wedding:
"Let me tell you, they [men] can be rip-roaring mad or frustrated or worried about work or life, but in the end, they're pretty simple to figure out once you know what makes them tick. And one of the things that make them tick is an almost desperate need to feel appreciated and admired."
"Of course they want great sex and want you to keep the house clean and neat and organised while looking beautiful and still having the energy to do fun things together, but admiration and appreciation are right up there."
"Men have to make sacrifices, too. Correct me if I'm wrong, but you want Jeremy to hold your hand and snuggle as you watch a movie, you want him to share his feelings and listen, you want him to spend time with your daughter and earn enough not only to buy but renovate the house. Well, I'll tell you straight up that no man says to himself as he's walking down the aisle, Gee, I'm going to work hard and sacrifice so I can provide a good living for my family, and I'm going to spend hours with my kids even when I'm tired, all the while hugging and kissing and listening to my wife and telling her all my troubles, and meanwile, I'm not going to expect a single thing." ..." A man promises to do the things to keep you happy in the hopes that you, too, will do the things that keep him happy"
"Men have certain needs, women have different needs; that's the way it was hundreds of years ago, and the way it's going to be hundreds of years from now. If you both realise that, and you both work on meeting each others needs, you'll have a good marriage. And part of that, for both or you, is trust. In the end, it's that simple."
I would highly recommend this book, and any others by Nicholas Sparks of which I've read 'Dear John' and 'The Last Song'.