I love reading, always have. I remember starting to read the Harry Potter series about the time when I was in year 4 at primary school. I used to read a lot, and it was a great thing to do with all the time spent on the bus to and from college. Although last year coming up to my exams, when I was supposed to be revising I decided I was spending too much time reading and stopped reading hoping I would spend more time revising. After that I couldn't get back into reading, and haven't read much for almost a year. So I would definitely love to read more! And I don't really like to set this as a goal, as it's something I wish to enjoy and not something I feel I have to do. But I have started reading more lately, and hopefully plan on writing reviews on the books I've read.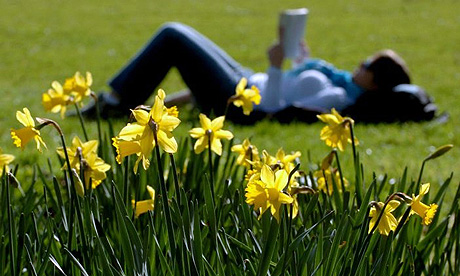 I liked this picture because as it's spring time there's a lot of daffodils around at the moment, fields and fields of them in Cornwall, and when the weathers nice I also like to read outside in the sunshine.
Books I have read recently: The Choice, Stolen, Scarred, Entangled.